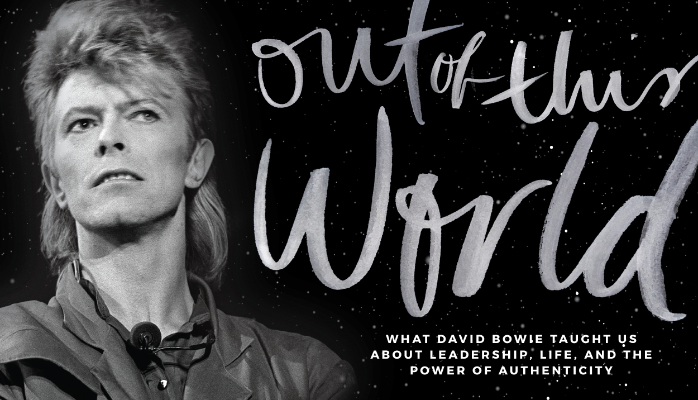 There are few artists — few cultural icons — who have been as influential in as many different mediums, to as many different artists, as David Bowie. An original, Bowie — who passed away January 10th — was often thought of as immortal; a superhuman life-force always on the cusp of the unknown. One of the rare artists who was unapologetically expressed — continuously and creatively reinvented — through genres, ages, and that gorgeous hair. A thought leader who never held back — with his opinions or his outfits. Nothing was too outrageous. Nothing off limits…
Which got me reflecting on leadership. Bowie-style leadership.
If authenticity is born from your inner self, from your true way of being in and with the world, then Bowie is leadership. His many layers — glam rock, plastic soul, spaceman, King of Goblins — glitter with authenticity and full expression — the core of modern leadership.
Bowie gave us his fully expressed self without considering what we were asking for or what we wanted. He gave of himself, freely. "Bowie invented this insane state of being, and the planet just collectively thought, Yes. This is what we want. It's like he was here just to do that (even though no one had asked for it, or even knew what to ask for)." (Chuck Klosterman, Grantland).
Great leaders don't give people what they think they want. Even if it's coming from a place of good intention, reaction will never put you ahead of the curve. Great leaders instead lead from the inside out — reflecting, learning, shifting, and transforming themselves along the way; to lead as a verb, as an action, as a state of being. Action is the place to be for every leader — even with the risk, the doubt, the fear of failure.  And yes, where there is leadership… you will find failure.   Hooray!
This constant reinvention — whether in leadership, career, relationship, life — is tireless in that we are never "done." It's finding yourself anew each day. Speaking your gifts into the world, your way.
That was certainly true for Bowie. Time and time again he gave us himself. His electrifying thoughts, unusual opinions, eccentric ideas — all that energy pulsing inside of his heart and mind — was fully expressed. He paid little attention to what we — his audience, critics, friends — wanted him to be… and instead cultivated his own swagger and style.
Who could we be in our work if we brought Bowie-level authenticity — insanity, expression, an insatiable appetite for transformation — to our everyday leadership?
What kind of leader will you be if you decide to stand up and out? To reveal what's inside. To be weird and broken and crazy. To be smart and powerful and beautiful. To be seen as all those things and more.
Unselfconsciously. Unapologetically.
You are a mortal with the potential of a superman.
Live it up.